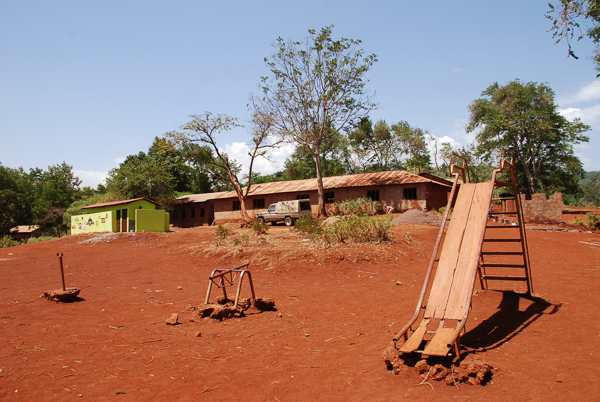 The old slide.
     When Grant Schmidt visited this school in Kiura on a MEDLIFE volunteer trip with Miami University, he knew they could do more than just help complete the bathroom project they worked on during the week long trip. After seeing a child climb to the top of this slid and then decide not to slide down, as the wood was old, rotting, and splintery, he decided he would organize his group to fundraise for the slide. We interviewed Grant about his experience with MEDLIFE and how they fundraised for the slide.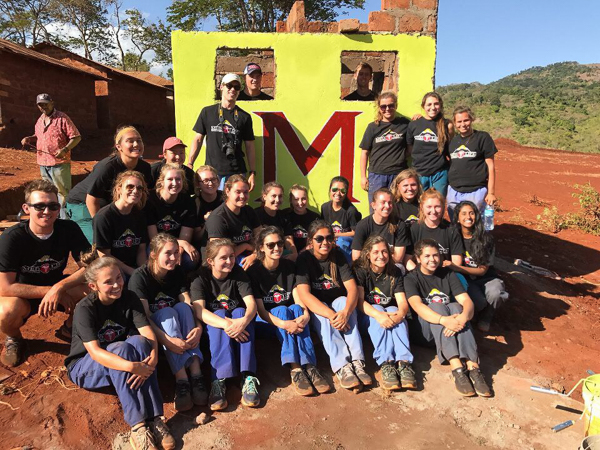 The volunteer group that helped fundraise after their MEDLIFE volunteer trip.
How did the group react to the idea of buying a slide for the school in Kiura:
 It was such a blessing to have gone to Tanzania with such a wonderful group of individuals. After the dinner on our third night of volunteering in the clinic, I stood and asked our group if anyone would be willing to donate to the cause of raising enough funds to buy the children a new plastic slide, which Neema worked out would be around $400. As soon as I had finished asking the question I was met with an overwhelming amount of positive support and encouragement for the idea. Every single member wanted to donate regardless of the amount, and they did; we raised over $200 within the first hour after dinner.
How is this slide project different than the project you fundraised before coming to Tanzania?
I wasn't a direct part of the fundraising project that MEDLIFE conducted before coming to Tanzania, but I think I can compare the two. The previous fundraised was calculated, planned, and carried out. However this was a spur of the moment project. It was the members of our group realizing that they had the opportunity to help just a little bit more, to brighten the lives of a few more people, and then doing everything in their power to make sure that happened. 
Why did you think it was important for the children to have a slide?
We all came to Tanzania thinking about the medical illnesses we could help treat or provide medication for to help improve the lives of some people there. We wanted to help give them some of the opportunities we experience on a regular basis. But after seeing the slide we realized something almost all of us take for granted growing up isn't available here. We wanted to help give the children the same experiences, and joy we had growing up, as happiness is an integral part of health. 
While volunteering in Kirua we couldn't help but notice the old wooden slide that sat on the grounds. We would see children climb to the top of the slide and then just sit there for a while before climbing back down, not wanting to slide down the two old splintery wooden planks to the bottom. We all thought "something like this would never be allowed to exist on a playground in America".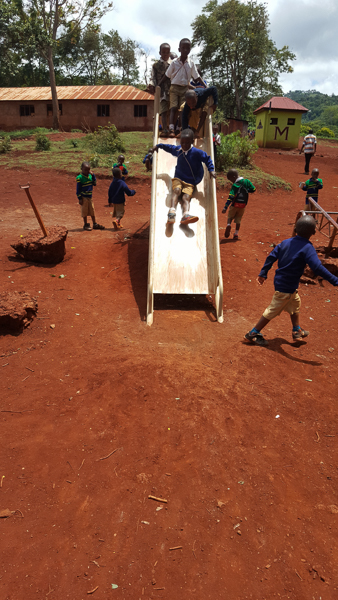 Kids using the new slide in Kiura.
How do you hope this slide impacts this school in Kirua?
 We hope the slide will give the kids another way to play and have fun, and that their happiness will translate into a better schooling experience. 
How can quick, group fundraising efforts like this have an impact?
 Quick fundraising efforts like this show that mission trips itineraries don't have to be set in stone, they can change based on the needs of the people you find. We hope that this slide may set a precedent to other groups that, if they find an extra need, they can fix it, whether it be the need of a new clean water system or even just another slide.