Earlier this fall, we introduced Joe and Tommy's $1 Tour: a journey up and down the East Coast of the United States with the goal of giving presentations at current MEDLIFE Student Chapters, starting chapters in new schools, and raising general awareness of MEDLIFE. Along their journey across 15 states — from Baltimore down to Florida and then all the way back up to Maine — Tommy and Joe collected single dollars from students, friends, and MEDLIFE supporters. After they completed their tour, the $323 raised in single dollar bills for the MEDLIFE Fund was donated to our most recent staircase project in Pamplona, Peru — a third staircase in the community of Santa Cruz.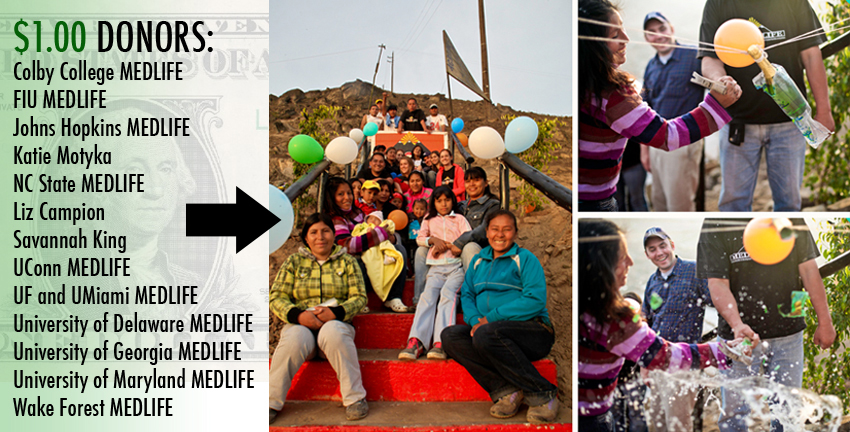 This stair construction project was born when MEDLIFE Project Director Carlos Benavides met a family from the district of Villa María del Triunfo: Sra. Alejandrina Huaya Quispe, her husband Elias Enrique, and their three children. Elias had become the leader of their small community (approximately 50 people) after leaving his home in Puno, near the famous Lake Titicaca, in order to find available land on which he could build his family a home. After we met Elias, he coordinated a meeting between his community members and the MEDLIFE team. MEDLIFE staff members presented our history of work in the region while residents explained their community's needs: infrastructure, potable water, drainage systems, and electricity. At this meeting, we came to an agreement to build a staircase in a region of Santa Cruz called the Pasaje de los Rosales.
Thanks to the community of Santa Cruz, MEDLIFE staff members, and all of our $1.oo donors for making this project a reality!