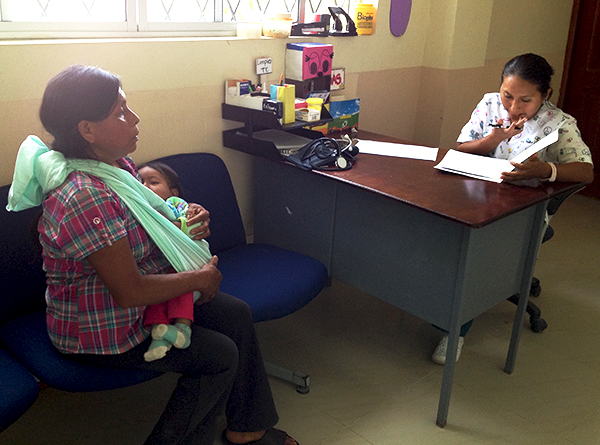 On the third day of clinic in Tena, Ecuador, an older woman walked in to the doctors' station with a crying child. The little girl's name is Daniela Belen Grefa Chimbo and she is one year old. The older woman, whom we later found out was the grandmother of the child, started to list off the child's symptoms as the doctor listened attentively. The grandmother told us the little girl had diarrhea for about a week and stomach pain. These are two common symptoms for illnesses commonly diagnosed in the jungle of Tena, Ecuador, where parasites are common. Yet, this case wasn't as simple as the common ones of the region.
For further examination, Daniela was put on the patient bed where the doctor palpitated her stomach. The girl began to cry uncontrollably, but no tears came out. The doctor Daniel told the volunteers shadowing him that she was completely dehydrated. He asked the volunteers if they knew how he diagnoses that just by looking at her. The volunteers gave him blank looks, until the doctor told them he could tell because she was crying, yet no tears came down. As he explained that he touched her cheeks and realized how completely dry they were. He asked me to get Martha Chicaiza, the director of Ecuador, for immediate follow up. I brought Martha to the doctors' station where the doctor asked if she could take the child right away to the health center to get rehydrated.
Martha walked the child all the way to the center since no car was to be found in the jungle region. The girl was taken to the clinic and was rehydrated with IV fluids immediately. When Martha returned late that day from the health post, she told us that they found that Daniela had an advanced dehydration. Luckily they were able to rehydrate her quickly in the health center. She explained to us that this girl was under the care of her grandmother since her parents live in Puyo, a larger city where her parents had to move to work.
Now, the little girl has recovered well. Since the visit to the health post, we have called her grandmother to follow up on her health condition. It has been hard for MEDLIFE staff to communicate with them, since they live in a community where there is no signal or telephone service. After multiple tries, MEDLIFE staff was able to communicate with the grandmother to hear that she is now stable, and although she is underweight she is now being fed properly and on the road to recovery.
Cristina Salvador is a MEDLIFE summer intern.