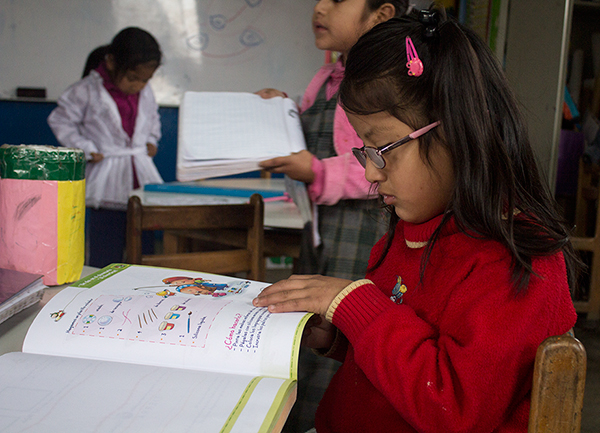 We encountered 5-year old Jimena Sarango in the hills of Laderas Nueva Esperanza one afternoon playing hopscotch she had scratched into the dirt. Her father Reynaldo hacked away at the rocky hillside nearby, carving out stairs. "A little girl fell down here last week," he told us.
Even before the family brought Jimena to a Mobile Clinic, we knew Reynaldo because he was one of the most involved community members at several staircase projects in the area. "I have faith that things are going to continue to get better," he says.
Reynaldo drives a mototaxi at night to support his family, though business has been suffering lately because the vehicle is too old and weak to make it up the rocky hills in the area. His wife Edith stays home with Jimena and her eight-year old sister, because they don't feel safe leaving the girls home alone, and there's no one else to watch them when school gets out at one in the afternoon. They do their best with what they have, says Edith, though sometimes it's difficult, especially when Reynaldo can't find work. "On those days I go with the girls to find things to recycle, and we can make a few dollars to buy ingredients at the market for lunch," she says. "My older daughter already understands that some days, we just don't have enough, but Jimena will complain that she's hungry."
Their lack of financial resources was also the reason that Jimena's ptosis, or drooping eyelid, went untreated for so long. "I was taking her to therapy when she was a baby, but I had to go all the way to the children's hospital every day on a bus," said Edith, "and we just didn't have money for the bus fare." Despite her eye condition, Jimena's grown into a bright and energetic little girl, well-liked among her friends in kindergarten. But when she came to a MEDLIFE Mobile Clinic earlier this year, her parents learned that her condition had worsened and needed to be corrected with an operation while she's still young, or she could lose vision in one eye.
Since our Mobile Clinics don't include optical specialists on site, MEDLIFE's patient follow-up team took over. Meri has been accompanying Jimena and her mother to doctors' appointments and helped her to get new glasses. Now they're trying to schedule an operation, though a nationwide strike in Peru's public hospitals has slowed them down.
Miss Lucy, Jimena's teacher, says that she already sees a change with the new glasses. "I used to sit her in the front of the classroom so she could see better, and I noticed her eyes would tear up," she said "But she's always been a very good student, very intelligent and helpful." Miss Lucy also told us that Jimena, who wants to be a doctor when she grows up, volunteered to serve as the medical brigade in the five-year old classroom. "When another girl fell and scratched her leg, Jimena came running with her first-aid kit to help out," she said.
Jimena's mother is proud of her precocious younger daughter. "Sometimes she has whole conversations like an adult," she says. For her part, Jimena says she likes to pass the time drawing, playing volleyball, and chatting with her four best friends. "I can't read anything yet, but my sister's trying to teach me," she says.
Click here to learn how you can help Jimena and her family by sponsoring a staircase near their home.