Our various medical campaigns not only help our current patients, they also help us find new follow up patients. Eleven year old Julio Cesar Mendez Tica, a child who has overcome great difficulties,is a perfect example.
When Julio Cesar was eight years old, he loved to play football near his home on the rocky hillsides of Nuevo Milenio, Pamplona. Similar to many kids his age, he liked to play with friends and was known for his constant smile and friendly nature. However, one evening his life took a tragic turn. While playing with some friends, a rock broke off of the hillside and headed toward the field, hitting Julio Cesar on the right side of his head.
The rock had smashed one of the bones of his skull, damaging vital brain tissue. In the time that it took to transport Julio Cesar to the María Auxiliadora Hospital, blood clots in his brain had developed. This forced doctors to remove the damaged bone, placing it under the skin of his stomach to preserve it. During surgery, it was discovered that the damage was too severe to rectify, leaving the entire left side of Julio Cesar's body paralysed.
Directly after his surgery, various government representatives, NGOs and the media publicly pledged to help Julio Cesar. However, it has been three years since the accident and the promised help never came. Therefore, when MEDLIFE met him during the first Mobile Clinic in Nuevo Milenio, Julio Cesar's mother, Alejandra, was very suspicious. She felt that all previous organizations who had promised to help her child had instead taken advantage of the situation, advertising the case for their own gains. Weeks of meetings and discussions with our nurses enabled the Mendez Tica family to trust the help of others once again.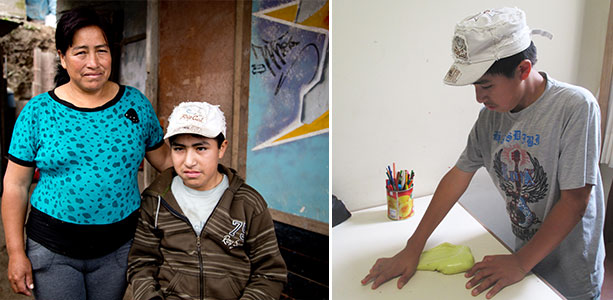 Julio Cesar has since undergone surgery, in which the bone of his skull was successfully realigned in place however, that was just the beginning of his recovery process. Several rehabilitation treatments were necessary, and the accident had changed Julio Cesar into a very reserved and shy child. As of September of 2013, MEDLIFE has taken care of all treatment costs for Julio Cesar, including speech, learning, occupational and physical therapy.
These many months of hard work are paying off. Now Julio Cesar is starting to smile again, and has taken a liking to photography. He has started to recall events that he had forgotten due to the accident. Additionally, after several recent assessments the Cesar Carbonell Public School has opened its doors to him, and now Julio Cesar is entering the 4th grade.
It is important to note that through a partnership with Area Children with Special Abilities, Cesar Carbonell Public School, located in Lower Pamplona, will now help other children like Julio Cesar to enroll and continue their education.
MEDLIFE will continue to support Julio Cesar and his family. We are now aiming to supply him with a computer to do his homework, as well as help his family remodel their home. These two important goals will help the Mendez Tica family greatly improve their quality of life.