After riding three different buses, we finally arrived at one of Lima's children's hospitals to meet four-year-old Diego. On comparing journey experiences with his mom, suddenly ours didn't seem so bad- she comes to the hospital three times a week, and for her and Diego the journey is two hours each way. Despite the long journey, Diego had the largest smile on his face and was in high spirits.
We found a table to sit at outside the hospital, where Diego's mom began telling us her son's story. When Diego was born, he showed no symptoms of the disease that would soon take over his life. Shortly thereafter, he started developing symptoms of Marfan's Syndrome, a disease that affects connective tissue, resulting in weak joints, stooped posture, poor vision, and potentially even fatal heart complications. Concerned about his condition, the family visited a doctor who told them Diego desperately needed an operation on his heart, and that without it, he wouldn't live past his second birthday.
Devastated, Diego's family was left in an impossible position- living in extreme poverty, the parents simply couldn't afford the operation. Though the family moved to Lima seven years ago in search of better job opportunities, Diego's condition means he requires full time care from his mom, so they rely solely on the father's factory job salary. Diego's mom explained how, although she contacted a number of organizations she hoped would help with the funding of the operation, her calls were never returned; it seemed there was nothing they could do to help their baby.
However, despite expectations, Diego's second birthday came and went. The family's hope was starting to be restored. It was because Diego contracted a common cold that his mom brought him to a MEDLIFE mobile clinic set up in the area. Once there, a MEDLIFE doctor did a full check up and gave the family the news that meant they could truly start to see the light at the end of the tunnel.
The doctor told them that Diego's condition was not fatal and that MEDLIFE was going to help him get better. Medlife started by giving him medicine to overcome his cold, and then began providing the long-term support he needed.
Diego's mom then explained what having Marfan's Syndrome means for Diego's daily life, and she listed Diego's symptoms: 'Before, he couldn't walk at all. He wasn't able to use his hands or feet because they were curled up; he had no muscle tone in his legs, and his posture was curled over because his spine is bent. He has really bad eyesight, and he also has fragile skin so he bleeds easily. When he's most in pain he can go for two to three nights with very little sleep.'
With MEDLIFE's help, Diego now sees a physical therapist three times a week. The advancement he's made due to the therapy means he is now able to walk alone for brief periods of time. MEDLIFE is also providing him with medications that will help improve his condition and pain, a full upper body corset he must wear all the time, and the milk and calcium he needs to strengthen his bones.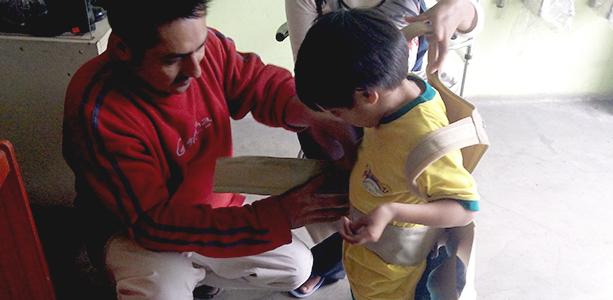 While his mom told us all of this, Diego continued to have the biggest smile on his face, he was so well behaved. After taking in everything his mom had told us, we turned our questions to Diego. First, we asked what he wanted to be when he grew up: 'a doctor', he grinned! Just like the ones who are helping him get better. And when we asked him what he likes to eat to make him stronger he was quick to tell us 'Chaufa (Peruvian Chinese food)!'
Although Diego is making huge improvements, there is still some way to go. His eyesight is drastically affected by his sickness, but he does not have glasses because the doctors who could prescribe him some are on strike. Also, he has outgrown his orthopedic shoes as his feet grew so fast. He also needs to continue with therapy, medications, and large quantities of calcium.
Soon, it was time for Diego to go for his physical therapy appointment. A young boy with so much love to give, he gave us all a kiss goodbye and one last grin! Diego's condition has certainly improved, and we look forward to him having a happier and healthier life!