I first met Deli on the final day of a MEDLIFE Service Learning Trip; I had been sent to photograph the inauguration of a staircase in the community. The 9 year-old's shyness had apparently worn off as, almost immediately, Deli was giving me a tour of her newly constructed home. All it took was some encouragement from a couple of fellow MEDLIFE staff members, Kristine and Lina, who had been working in her community all week.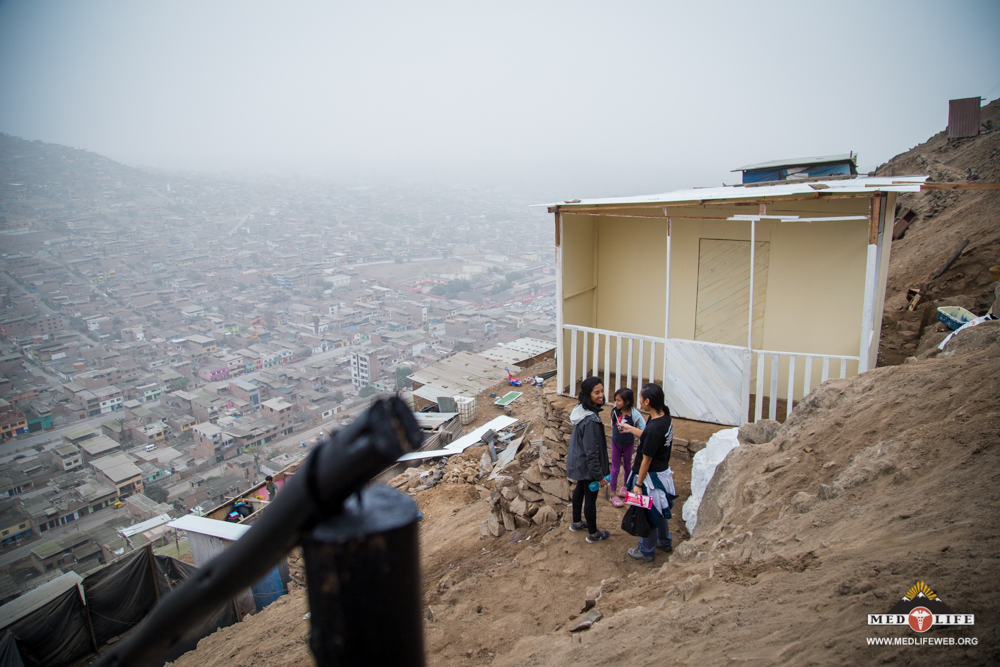 Deli, along with MEDLIFE staff members Lina and Kristine, in front of the newly constructed home.
The simple structure sat just at the top of the newly built staircase, and a path through the rock had been cleared, leading up to a small white gate. After we looked at the space where the kitchen would be, her parent's room, and a living space, we reached what would eventually become Deli's room. Unfortunately, this brought our tour to an end, since Deli had realized that volunteers from the trip were opening some paint outside. She hastily joined as they decorated a rock that had been left protruding from the hills side in front of her home. A few brightly colored butterflies seemed to be just what the rock needed to be transformed into a makeshift plaque for Deli's new home. Two butterflies later, Deli's mother, Yajaira, called for her to attend the mobile clinic that MEDLIFE was holding elsewhere in the community.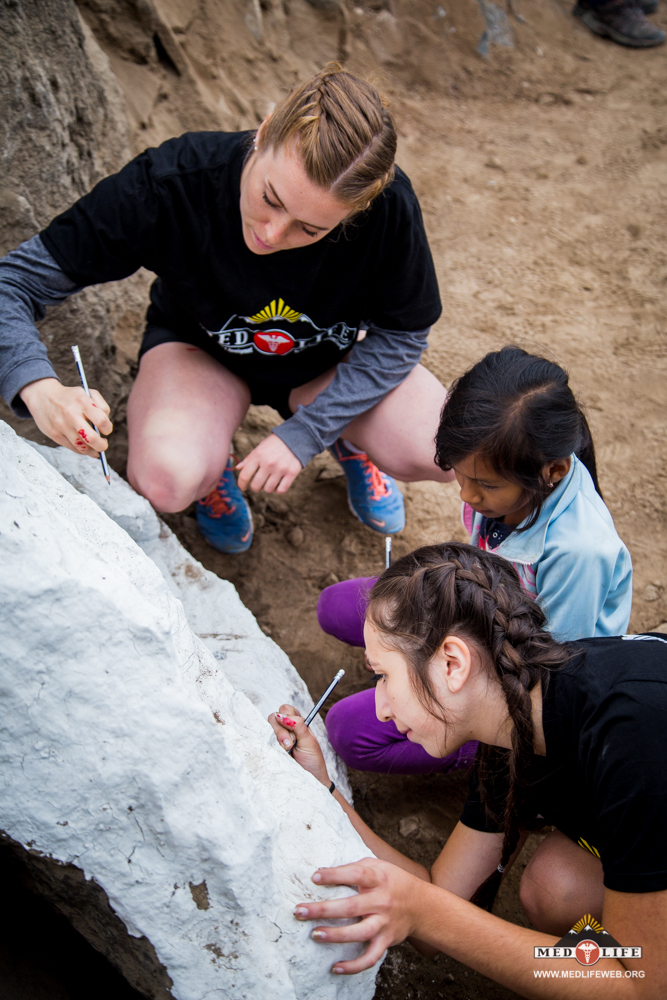 Deli as she joined volunteers to decorate the rock in front of her home.
It was in the neighboring community of 15C where Carlos Benavides, director of MED Programs Peru, along with MEDLIFE staff members, Kristine and Lina, were introduced to Yajaira Muray Ary Tolentino. They were first introduced to Yajaira's story by a neighbor who came to ask for help on Yajaira's behalf. Then, they finally met her in person while working on a staircase project close by. Yajaira found MEDLIFE herself to seek out relief.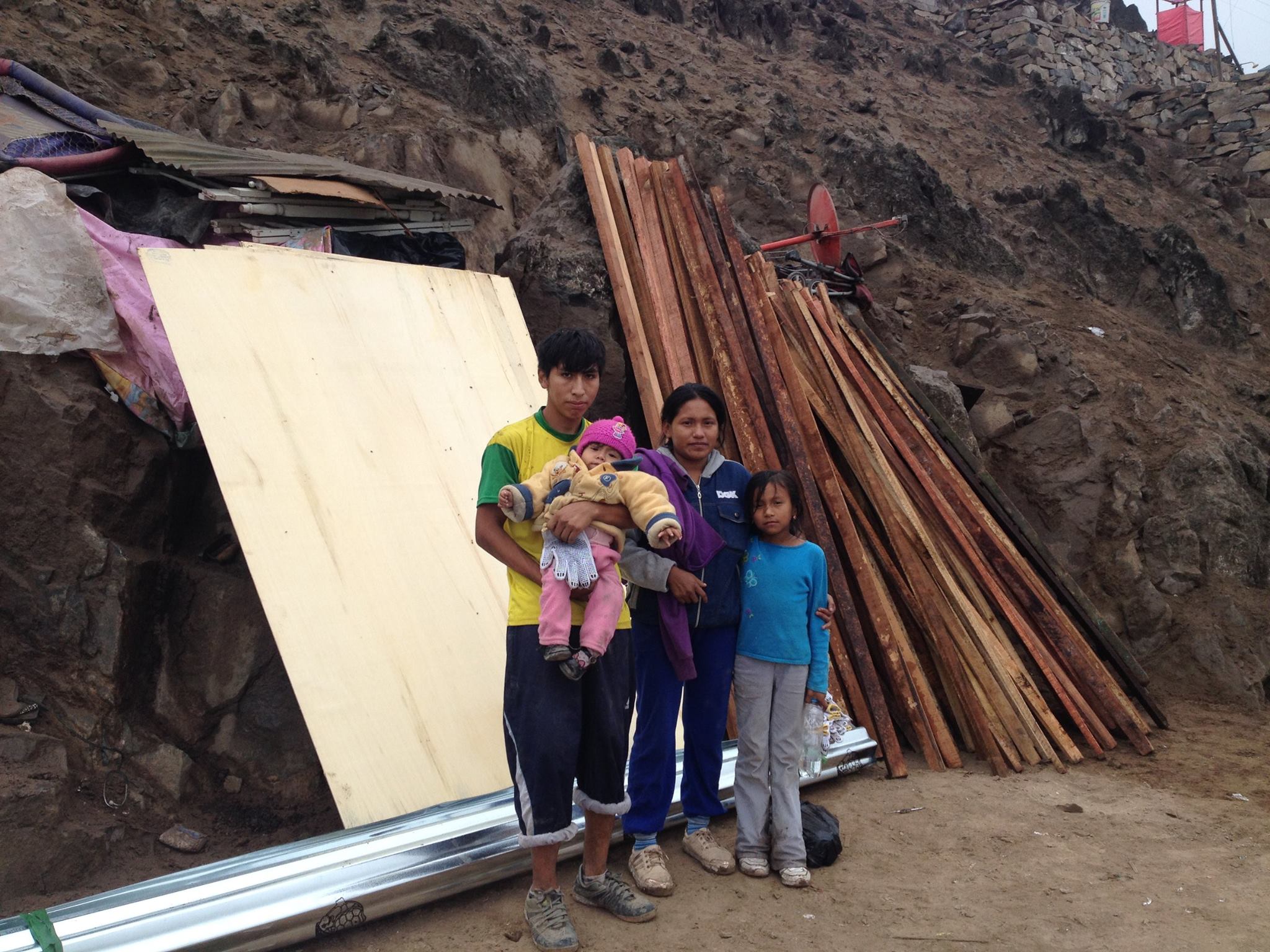 Yajaira's family in the space where her old shack used to be, getting ready to lay down the new structure. Also featured is Yajaira's husband, Felix, who has recently been entered into MEDLIFE's follow up program.
Yajaira and her family moved to Lima from the small Amazon town of Requena when Deli was just one year old. Originally settling with her parents lower down the hill, Yajaira later sought help from the community of 15A1, who were able to give her a small section of land. "I started to by using plastic to cover us, I made a small shack," says Yajaira. By the time she was 6 months pregnant with her second daughter she had created a two square meter structure which served as their home, "I lived there with my kids; it was small but we finally had our own place." It was obvious that the family was in need of more comfortable living conditions, and Carlos quickly coordinated the supplying of materials to improve the home.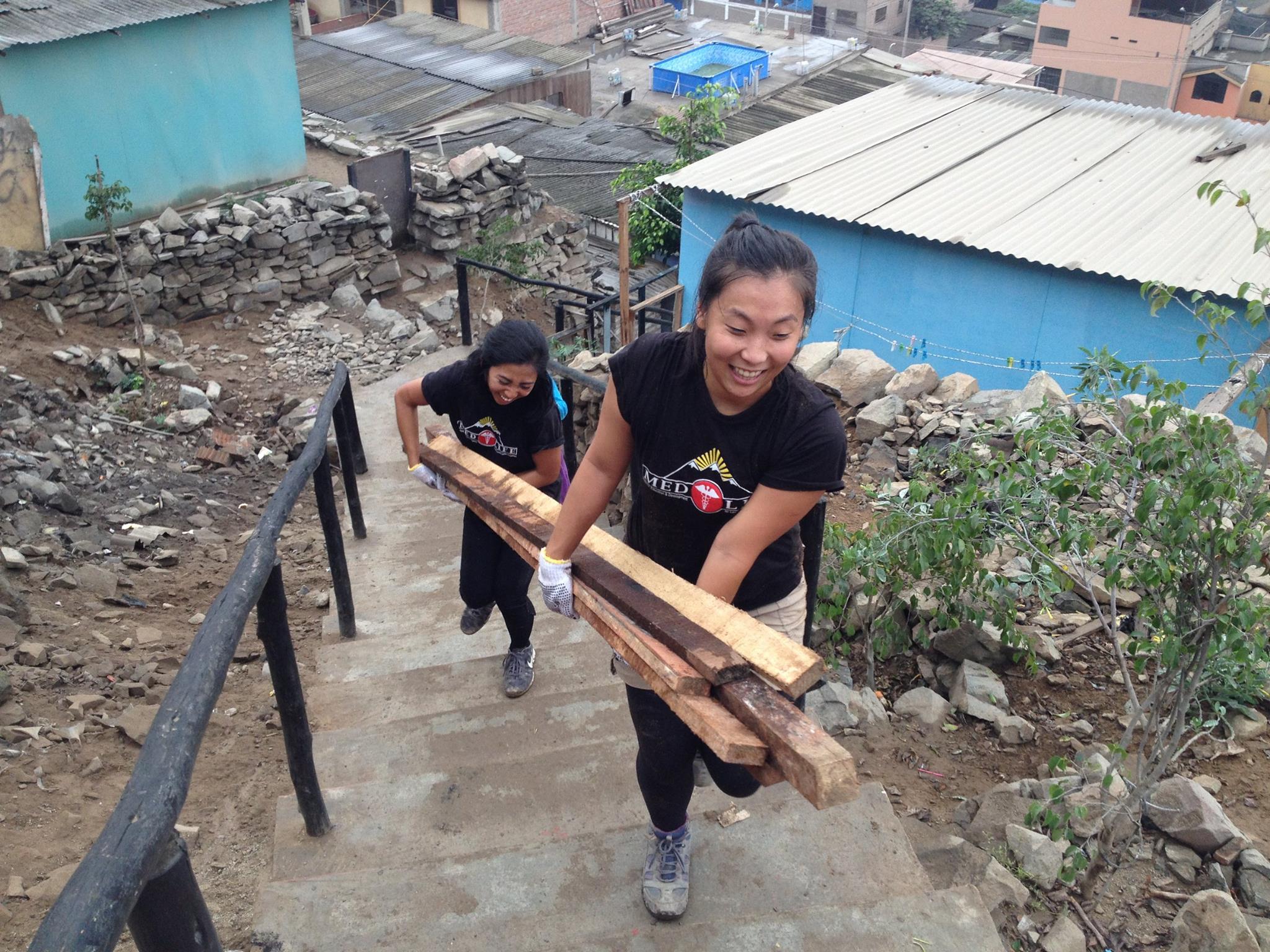 Lina and Kristine carrying up Supplies to construct the new home.
While working to improve her home, Deli, who, naturally, had already befriended everyone she'd met, expressed to the MEDLIFE team that she was worried about her mother's health. The team was sure to inform the family that MEDLIFE would be bringing a mobile clinic to the community the following week. I later learned the extent of Yajaira's health issues when on a home visit with one of the MEDLIFE nurses as part of the patient follow up program.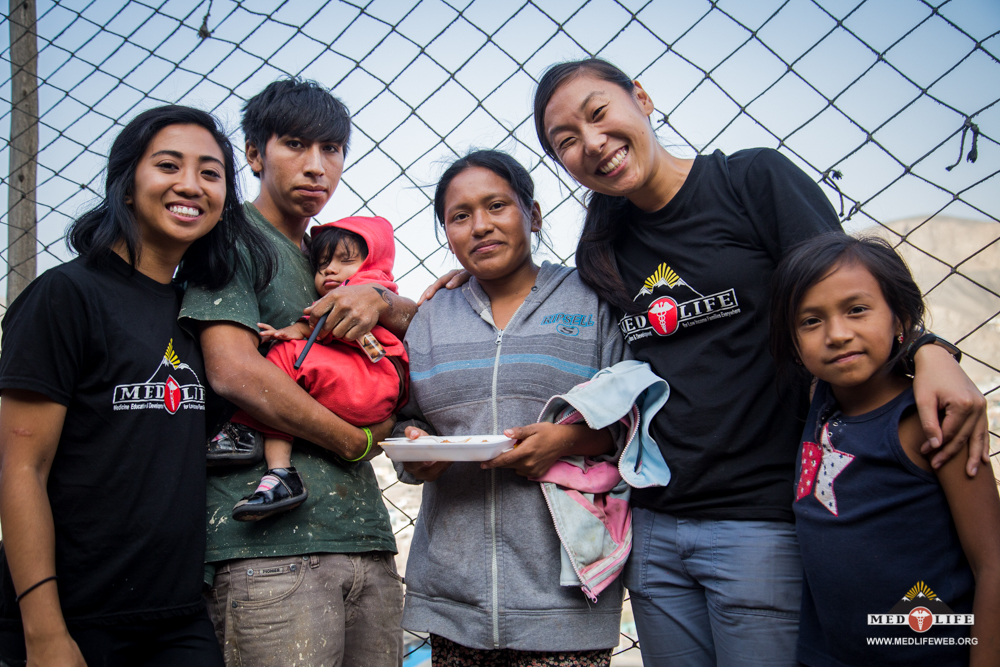 Yajaira and her family on the day of inauguration.
A little over a week later, I sat down with Yajaira as she explained why Deli had shown so much concern during the last visit by MEDLIFE staff. Since the age of 14, following the loss of her first child, Yajaira had been fainting up to two times a week. Obviously these fainting spells have been disruptive and dangerous to Yajaira's everyday life, but she has not yet recieved any kind of diagnosis. As of right now, the cause of Yajaira's illness remains unclear, but, with MEDLIFE's assistance, I hope that we can improve Yajaira's quality of life even further. From here, the next step is to fully enroll her into MEDLIFE's patient follow up program. Then, the MEDLIFE nurses will be able to assist Yajaira in discovering the root cause of her condition and, hopefully, find a solution.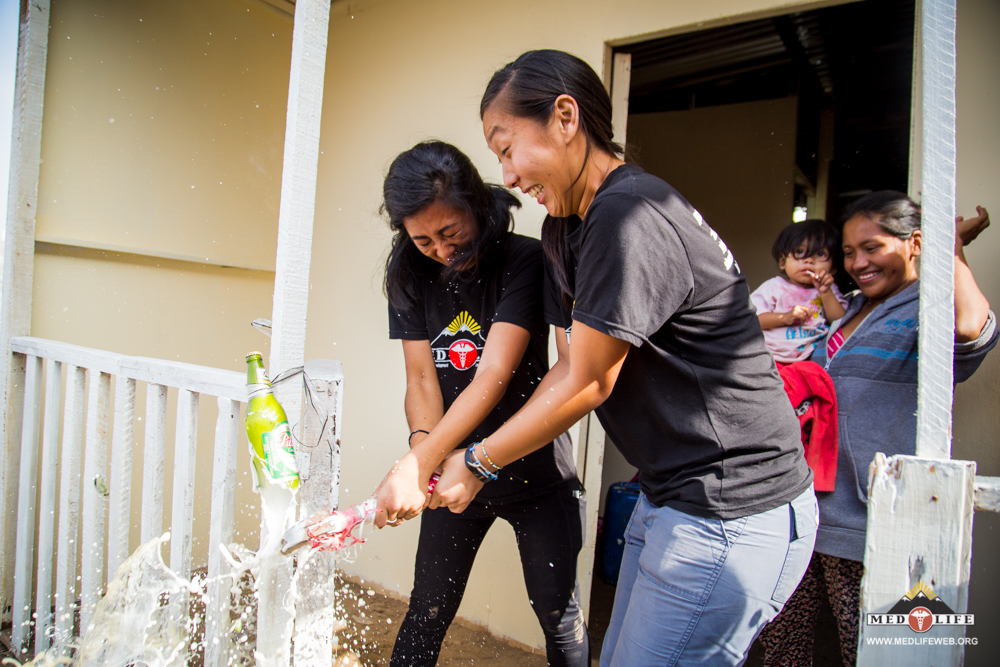 The bottle smash, a Peruvian tradition to inauguratea finished construction project.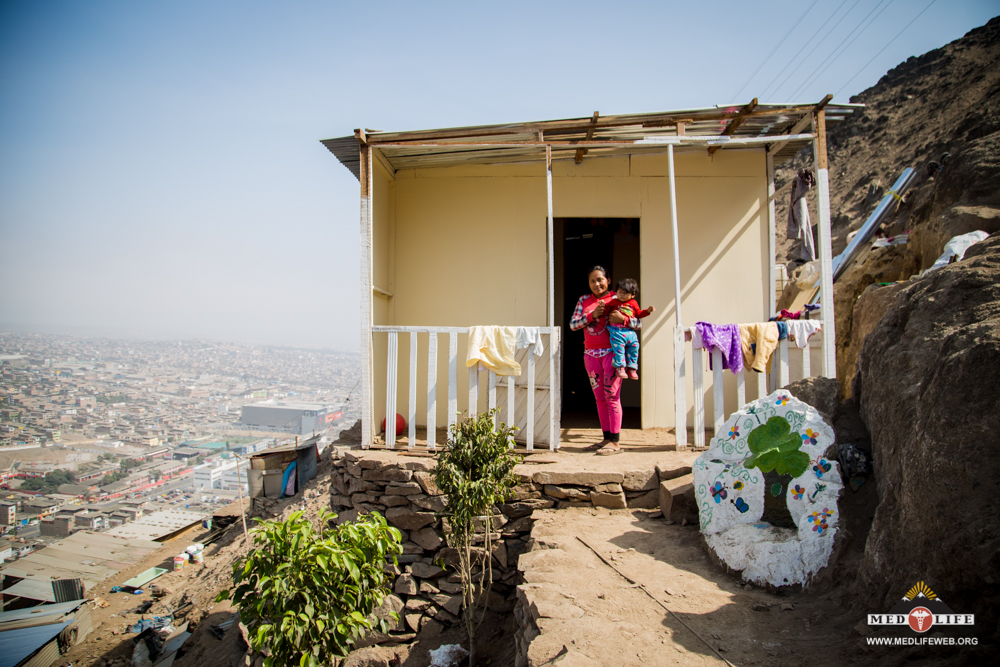 Yajaira and her youngest daughter in front of their new home.
MEDLIFE Patient story: Yajaira Muray Ary Tolentino from MEDLIFE on Vimeo.