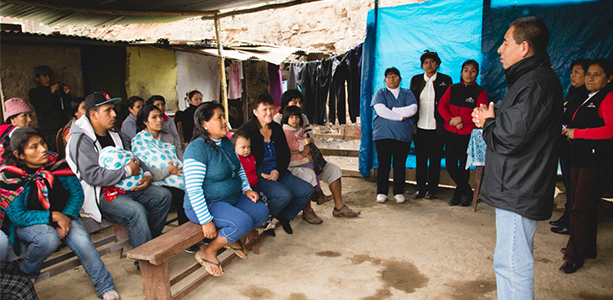 MEDLIFE has a very rounded vision of development- we recognise one cannot simply eradicate poverty through one avenue alone, offering solely medical treatment for example. Our mission is focused on offering education, development, and healthcare to help families achieve greater freedom from the constraints of poverty. In addition to the mobile clinics that our volunteers provide a huge amount of support towards, a lot of time and effort is put into organising educational workshops for the communities of Peru.
Educational workshops help prevent illness and ensure more serious conditions are recognised earlier, increasing the chance of treating and curing them before they become detrimental. Last Friday two other interns and I joined Carlos, the director of MEDLIFE Peru, and two MEDLIFE doctors who would be delivering the presentation, on the journey to the community. After a couple of bumpy bus rides and a short climb into the hills, we arrived at our destination. We revisited a community that we had recently begun collaborating with. After confirming with them that a new staircase would be built in their area in late August, we continued to present an educational workshop. One of the women had an area out the back of her home large enough to hold the event; she had arranged rows of chairs for those who could attend.
Once we arrived, we hesitantly walked through to the back of the house, not knowing exactly what to expect, how many people would come- it was really quite a chilly afternoon and potentially still working hours for some. Though of course, there was nothing to be concerned about as the seats were filled with men, women, and children, wrapped up warm and prepared for the occasion.
The MEDLIFE doctors made do with simple portable materials, including illustrations and some paper they stuck on the wall to write on and help explain health information. The doctors alternated for different sections of the presentation, and the audience sat continually engaged, quiet until the occasional question arose. The children played silently, the camera I was using also offered a great distraction! All the children I had met on the trips into the hills of Lima have been the most beautiful subjects a photographer could ask for, their smiles growing with excitement every time I share the photographs I have taken of them.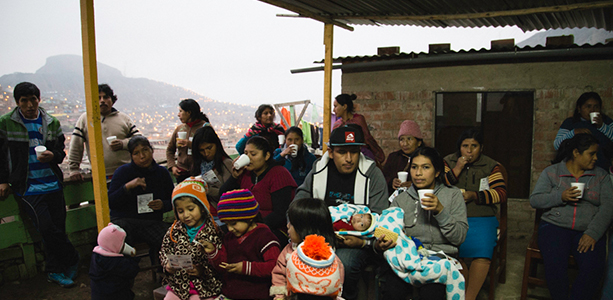 The quality of the public education in Lima, Peru remains unsatisfactory partly due to low teacher wages and lack of school spaces for the ever-growing population. This, combined with the common practice for women to give birth young, means a substantial proportion of Lima's migrant population won't receive an adequate education. This exemplifies the necessity for the MEDLIFE educational workshops, which in some cases may save lives.
Before finishing the presentation, one of our summer interns, Alex, bravely stood at the front to share her health experiences with the group- a last minute request from Carlos. It was only in afterthought that it dawned on me why Carlos had really encouraged Alex to do this: health can often be a sometimes sensitive and embarrassing subject, one people don't like to discuss and share. By Alex demonstrating that it's okay to talk to others about her health experiences, it may just make it easier for them to do so in the future.