Another successful week of the One Billion+ Campaign Tour has come to a close and we are strongly urging all of our student chapters to make their best effort to fundraise for our Wawa Wasi Day Care Center Project this month. We've also added an additional presenter to the mix — Mauricio Parra, our former summer intern, has taken over Florida on behalf of MEDLIFE! Check out how he and the rest of the crew are doing on each of their legs of the tour below: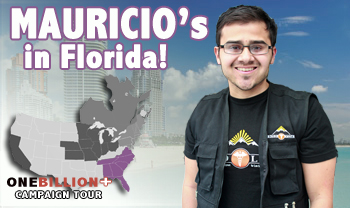 Oct. 4th, 2012:
"Today I met with UF's MEDLIFE executive board where I hosted a small workshop to help them during their transition into becoming a strong and established chapter in Florida. Within this workshop, I gave them a long overview of the organization, reiterating to them our mission by using examples from all of our patient follow-ups. Afterwards, we analyzed their plans for the year, focusing mainly on how they have gone about promoting the organization, and I provided them with helpful tips that have worked with my chapter. Our meeting ended up lasting over two hours, and I feel that we managed to accomplish a lot in preparation for their actual General Body Meeting with Juan at the end of the tour. All of the officers seemed to be very eager to get the club going, and I told them that we will be there with them every step of the way! Now, I'm on my way to my presentation in Orlando for UCF!"

Next week, Mauricio will be travelling to Miami. Check out the Southeast region tour schedule page to find out where he'll be speaking.
____________________________________________________________________________________
Oct. 4, 2012: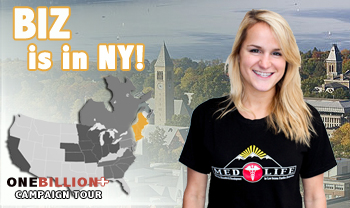 "The presentation at Cornell went very well, with a mixture of new students and established MEDLIFE members showing up. Most of the students who attended were interested in signing up for a Mobile Clinic this January, and all seemed interested to learn about the patients and projects we are currently overseeing in Lima. I met a few students on the Cornell executive board, and they assisted in answering new students' questions about our work on Latin America. Overall, it was great to see enthusiastic students who want to get involved and make a difference! "
Next week, Biz will be travelling to New Jersey! Find out where she's headed by checking the Mid Atlantic tour schedule page.
____________________________________________________________________________________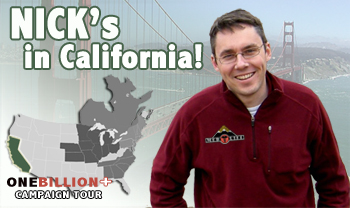 Oct. 1, 2012:
"San Luis Obispo, most commonly referred to as SLO, recently was named as the happiest city in the country, and we weren't disappointed — it is a great little city! Despite not having a talk arranged when the tour started the Cal Poly e-board quickly pulled together a meeting in their library. We met with probably around 10-15 students there. They have participated in multiple clinics so far and are really excited to grow their chapter even more. They were accepted as an official school chapter at the end of last year so in many ways they are just starting to get formalized. We're happy to be helping them along their way, they seem like a promising group."  
Next week, Nick will be travelling throughout southern California! Find out where he'll be stopping by checking the California tour schedule page.
____________________________________________________________________________________
Oct. 5, 2012: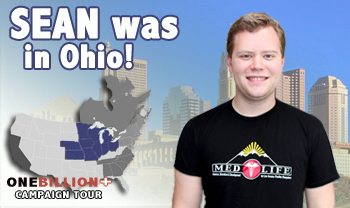 "This week has been exceptionally awesome. Binghamton had a phenomenal turnout — great job Danielle. Pitt's campus is beautiful and Lauren gave me a great tour. Ross and Rachel are ideal student leaders, not to mention should probably end up together if they are dedicated Friends fans, such as myself. Penn State chapter is destined for great things. University of Miami is full of great people. I especially want to thank Taylor and Chris for all their help with getting my car out of trouble and putting me up in the nice hotel. I can't wait to see what the rest of the tour brings!"
Next week, Sean will be heading to different states in the Midwest! Find out where he'll be stopping by checking the Midwest tour schedule page. 
___________________________________________________________________________________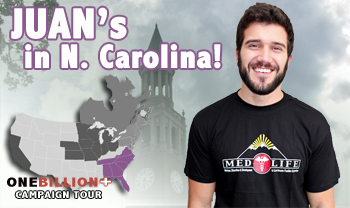 Oct. 3, 2012: 
"I'm in North Carolina and the weather is really beautiful. Going to UNC was awesome. I met with Maili and Danielle, two students in their sophomore year that have never even been on a Mobile Clinic! Yet, when Maili heard about MEDLIFE, she felt inspired to bring it to UNC and recruited her high school friend, and fellow UNC classmate, Danielle, to help her. Together, they have taken the initiative to build a chapter from scratch at UNC. The 1B+ Campaign stop at their school doubled-up as the first introductory meeting. There was a great turn out and the chapter is well on its way to a strong start!"