Joe and I had an incredibly successful first day of our tour: we covered 235 miles, hosted a presentation for over 50 students, and collected $41 for the MEDLIFE Fund! Read more about our day below, and keep an eye out for another post soon with our complete travel schedule!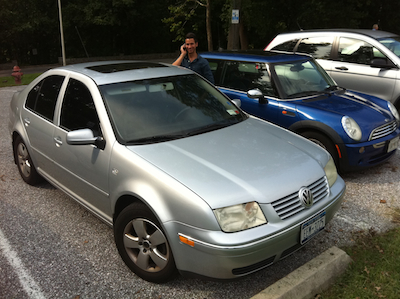 I met Joe this morning at a train stop near his home town of Franklin Square in Long Island, New York. I had arrived on a train from Manhattan, and Joe — who just two days ago had returned home from Lima, Peru — picked me up in his Volkswagen Jetta, our third traveling companion for the coming six weeks.
We shot down I-95 from New York to Baltimore, where we had our first presentation of the tour scheduled at Johns Hopkins University. We had received word from the president of Johns Hopkins MEDLIFE, junior Ava Yap, that we would be greeted by a group of Hopkins students as well as some free food. Joe and I were excited about each of these prospects, but we were blown away by the results of Ava and her fellow chapter officers' preparation: we were treated to a tasty selection of Peruvian snacks (grilled sweet plantains, fried yucca, and tortillas), as well as well over 50 JHU students!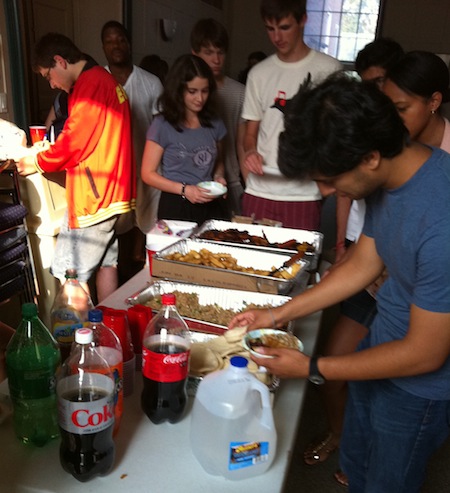 Joe and I summoned up our courage and delivered our presentation on student involvement with MEDLIFE, and held a Q&A with the students and chapter officers. At the close of the presentation, we were pleased to see that we had received $41 in donations from the attendees — a fantastic start to our $1 tour! (You can keep track of our tour donations, and make a donation of our own, on our $1 tour campaign page.)
We can only hope that the rest of our presentations continue to be this successful. Thank you to Ava and all of the of the other officers at Johns Hopkins for doing an excellent job in planning and promoting our presentation.
We're now settled in at the household of MEDLIFE intern Amara Channell, whose family has shown us incredible hospitality in housing us (and offering us an abundance of food!) as we stay in the DC area. Another big thank you to Mr. and Mrs. Channell for supporting our tour.
Our next stop is the Unversity of Maryland — wish us luck! And be sure to check out our complete tour schedule in a post coming soon.