As a student at Florida State University, Mauricio Parra-Ferro founded a MEDLIFE chapter at his school and spent a summer interning in Lima, Peru. Even after graduation, he remains involved with MEDLIFE's work, and came back to Lima for a week this March to help out at a Mobile Clinic. Now back in the States working as a biology teacher for underserved middle and high school students and preparing to go to medical school, he took some time to reflect on his visit with us.

My involvement with the MEDLIFE Florida State University chapter has made it very near and dear to me, and seeing how much the chapter's expanded this past year makes me both amazed and extremely proud. With its 47 students, FSU comprised approximately 80% of the March 11-15th Lima Mobile Clinic. However, it was the combined effort from all of the universities which made the clinics and development project so successful.
Throughout the week, I spoke with several of the students to discuss their opinions on global health, the most memorable experiences, and what they hoped to get out of the trip. I was very pleased upon hearing the responses. Everyone seemed to understand the importance and necessity of real sustainability, and they appreciated how MEDLIFE always aims to create this through improvement of the local infrastructure, and through consistent patient follow-up. Moreover, rather than only focusing on their own experiences, they would often talk about the patients they saw in the various stations, the communities they visited, their admiration and respect for the MEDLIFE staff, and the reoccuring issues they were exposed to.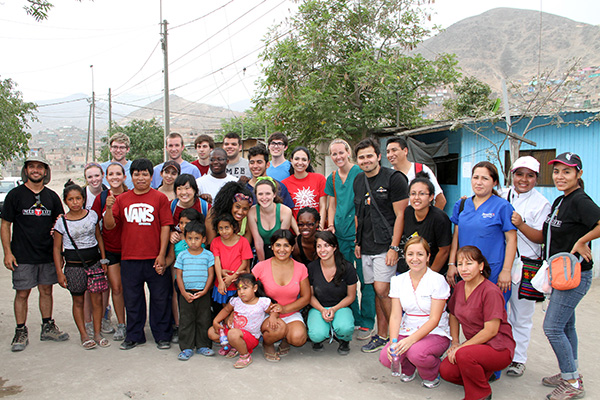 While several people came prepared, having learned various Spanish phrases and studied the Peruvian culture, I feel confident that everyone managed to leave with an altered perspective on life. The educational and eye-opening experiences which MEDLIFE provides gives participants the opportunity to expand their knowledge and subsequently be better prepared to serve others in the future, especially those who live in areas of extreme poverty.
In conclusion, my time helping run the clinics was everything that I hoped it would be and more. It was extremely refreshing to visit and work with the old MEDLIFE staff, people whom I consider family, and I loved meeting and getting to know the new members of the team. I sincerely appreciate having had the opportunity to be welcomed back to the communities to interact with residents, and help make even the slightest bit of impact on their lives. I have come to realize that throughout all of my volunteer efforts, especially the ones through MEDLIFE, while giving back to those who need it the most is undoubtably a rewarding feeling, it will always leave you feeling like you want to come back and do even more.