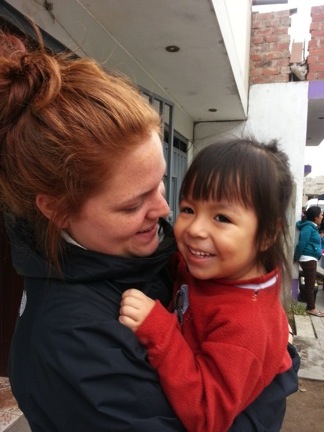 My name is Alex Troyer and I'm a junior at Eastern Washington University studying Therapeutic Recreation. In the future I hope to go to graduate school to study Global Health, so when I came across MEDLIFE while researching NGOs here in Peru, it sounded like a great opportunity. Learning about its focus on improving medical health for the poorest communities in Peru and elsewhere, really impressed me. I knew it was an organization I would like to be a part of, and one that could offer me insight into how global health research can contribute to community development.
From a young age I have strongly believed one should always follow their heart, take life one day at a time, to never give up, and travel whenever you are able. I believe that people should always donate to local charities or non-profits. If you don't have the money, than volunteer. If you don't have time to volunteer ,make the time. In today's society, people are a little too wrapped up in their non-stop working lifestyle that they forget to take a step back, relax, and help others.
It was the chance to study abroad through my degree that originally led me to Peru. During my freshman year in college, I decided I wanted to take an adventure to a country that could possibly change my life. I had three criteria for picking a country- I wanted a big city, it needed to be close to a body of water, and it had to be somewhere "unusual". Somehow, I came across Lima and it met all three of my measures. I brought a plane ticket and off I went. Even though I was in Lima to study, I also got opportunities to travel and see all different parts of Peru for 7 months. Once my seven months were up, I knew it wouldn't be long until I returned to Peru, its culture and life style was one I fell in love with. As soon as I had the chance I was back again to visit friends in December 2013. It was then that I began the search for a way of securing a more long term stay here, and a way of giving something back to the country that I felt was giving me such great experiences.
People continuously ask me, "What is so great about Peru? Why do you always go back?" The answer is simple: the lifestyle. The way people live here cannot easily be put into words. One may say that it is very relaxed, while another may say it is chaotic. From relaxed to chaotic and everything in between, that is Lima. I love the countless numbers of taxis, the streets that never sleep, and the nonexistent traffic laws. I enjoy their concept of time and how conversations are more important than a list of things to do. The Peruvian gastronomy is something that I particularly enjoy! Peruvians are the most warming, caring, and welcoming people I have ever met.
MEDLIFE's, mission statement- "to help families achieve greater freedom from the constraints of poverty, empowering them to live healthier lives", really struck a chord with me. After contacting MEDLIFE, I was very happy that Tim, the Director of Student Affairs and Communications, offered me an interview.
During the interview Tim and I conversed more about MEDLIFE, its values, and future goals. I like how MEDLIFE takes a comprehensive approach through three main components- medicine, education, and development. I believe this forms a core foundation for someone to live a successful lifestyle. I was so happy to later find out I got the job and was soon going to be a part of this wonderful organization.
I cannot wait to see what is in store for me during my time here at MEDLIFE. From the office to the field, there are always ways to improve a situation, from something as simple as smiling and having a positive attitude to a situation, to thinking of new innovative ways for development. My overall goal for this internship is to make a positive change and impression within MEDLIFE