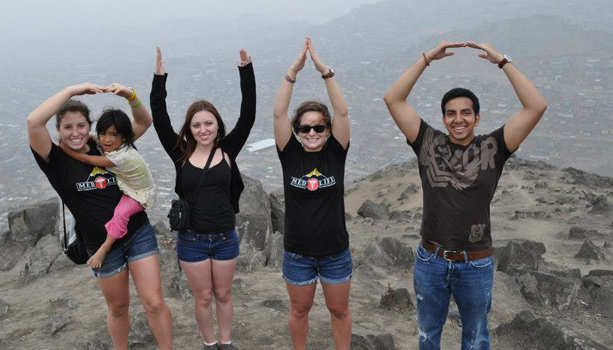 I had the goal of getting back to Peru since December 2012. I had participated in two MEDLIFE's volunteer trips to Ecuador and Peru, respectively. What started as a ticket to a week-long "vacation" in a Latin American country, with humanitarian work on the side, resulted in me becoming very passionate about the work that MEDLIFE does. Although the underlying problems embodying poverty are different in Ecuador and Peru, my experiences on both trips played an influential role on my future and my goal of actively advocating MEDLIFE's ideals at the main Ohio State's campus and abroad. It was a speech given by a single mother of two: Carmen Solano, that particularly sparked my interest in pursuing an internship position at MEDLIFE.
It was Friday, December 21, 2012, and I, along with more than 30 fellow Buckeyes, stood in front of a staircase that was soon to be inaugurated. A lot of hard-work and sweat went into building this staircase that would soon be a tremendous help to many walking up and down the steep hills of Laderas de Nueva Esperanza. Whether simply traveling to work in the morning, or grabbing buckets of water for daily chores, the people of the community could now walk without fear of accidents, as the once treacherous path was now safe. People who are unaware of MEDLIFE may not understand its work. Well, I would say influential stories such as Carmen's are a perfect example of MEDLIFE's ideals – supporting and helping those that are in need.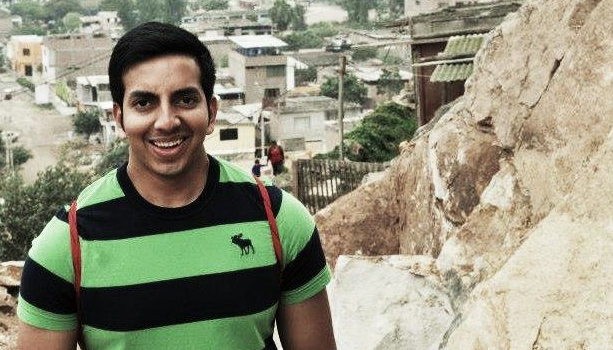 Carmen Solano was a single mother of two, struggling to support her family. Soon after she was diagnosed with cancer, she was laid off from her job, placing her in deeper turmoil. When MEDLIFE stepped in to help, they not only supported her through treatment but also with physical infrastructure around her house to ease her travels to treatment. In addition to the assistance MEDLIFE offered Carmen, they also worked to improve the livelihood of her community. Since then, Carmen became a vocal advocate of MEDLIFE's goals around her community and encouraged her neighbors to take preventive measures provided by MEDLIFE towards better health. As Carmen gave an emotional speech at the inauguration on that December afternoon, describing her experiences and thanking MEDLIFE and its volunteers, I knew I wanted to do return in the future to do more.
Nevertheless, the goal of getting (back) to Peru was months of work and seemed improbable. As I sat in the reserved conference room at The Ohio State University for my internship interview, it could have just been the nerves but I began to question whether I would be able to 'survive' an entire summer in Lima, Peru. I have extremely limited fluency in Spanish, my sister is scheduled for a series of planned surgeries this summer, and I may need to retake the grueling exam called MCAT in order pursue my dream of becoming a physician, obstacles that seemed too large to surmount while away in a foreign country. When I informed the staff at MEDLIFE of my situation, I believed that I would be stripped from this potential opportunity, as I was not the only individual applying who was very passionate about MEDLIFE's goals and its efforts to improve the lives of those in poverty. However, they were understanding of my situation, acknowledged the vast amount of work I placed into Ohio State's MEDLIFE chapter, and once they offered me the opportunity they were extremely helpful in planning the dates of my internship, a sure sign that they take great pride in their work and their staff.
After a month of a busy summer "break" and a fifteen hour journey riddled with flight delays, I finally arrived in Lima. I made my way towards the exit of the airport with my long face and blood-shot eyes, hoping to quickly make it to my new home for the summer and get a good night's rest. However, as I exited customs, I soon found myself looking for a sign that has either my name or 'MEDLIFE' written on it. I relentlessly walked around the perimeter of a crowd waiting to pick up their guests from the airport with no luck; a little panic began to set in me. As I tiredly walked around the crowd again, I spotted a little girl holding a sign that read "MEDLIFE" in big, red letters. As I made my way towards them, Amparo, a staff member at MEDLIFE, who had taken on the responsibility of picking me up from the airport, recognized me as a mobile clinic participant from two years ago. She and her family members then proceeded to warmly greet and welcome me to Peru.
As we exited the airport, I saw the familiar environment congested with automobiles. Soon, Amparo engaged me in a conversation to learn about my journey as her family members wished me 'goodbye' and 'good-luck'. Along the way to my new home, I remembered again why I am so attracted by MEDLIFE: too often, people work in a profession in which they lack interest. This is not true of anyone involved with MEDLIFE. From patients to staff to volunteers, everyone in MEDLIFE takes a keen interest in the well-being of others. Perhaps, this is why I felt so comfortable arriving in Peru, despite my lack of Spanish fluency. Because those that I have interacted with and will continue to work with truly care about medicine, education, and development for low income families everywhere.