Savannah King joined MEDLIFE at UGA's leadership team as Membership Coordinator shortly after participating in a Mobile Clinic in Lima, Peru last year; she then later became the Brigades Chair in April of 2012. Currently, she is one of four summer interns in Lima. When asked to summarize her experience thus far, this is what she had to say:

I've been here for four weeks and one day and words aren't adequate for describing the experience, but here's my attempt:
Upon our arrival, brigades started immediately, and so did the challenges. This is when you find out that seven years of studying Spanish in school only allows you to translate approximately 64% of what a patient says to you when you speak one-on-one, and only 23% of what is said when there's 15 people crowding in a circle around you all begging to know what number they are in line to see the doctor. Luckily, I happen to be pretty adept at hand signals and non-verbal communication, which makes up for where my Spanish fails.
Despite the struggles, these are the times when you find out you're capable of things you never even pictured yourself attempting.

The best way to describe the intern experience is "on-the-job-training." Our overarching responsibility is to constantly be aware of what needs to be done, to step in and do it, and then to check again for what more we can do.
At clinics, we help students get where they need to be, explain their tasks, teach them the phrases they need to know at each station, keep the peace when someone's lunch goes missing, etc.
We direct the setting up of the tent (much more difficult than it looks), assist with patient intake and facilitate the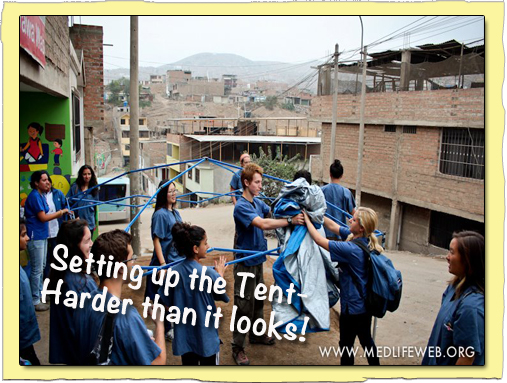 process of sending patients in one-at-a-time to see the doctors, dentist, and gynecologist. Then, after up to 8 hours of clinic, we come home, might grab a shower, then head to the students' hotel to help out with their evening events.
We try to give students a complete cultural experience during their stay here, and even after my fourth visit, I can still find something new to consider buying at the Inca Market (our Thursday evening outing). It's a shame I'm still too cheap to lay down 13 USD for a beautiful leather purse (even when I forgot to bring a purse with me to Peru and have been severely missing this vital female accessory for quite some time).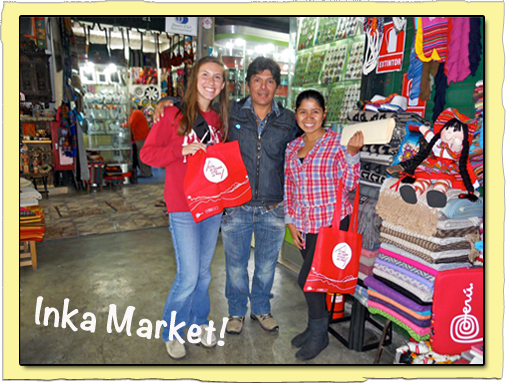 But above all else, I'm here because I believe in Medicine, Education and Development as being three of the most important aspects of helping people — whether I'm in a hospital in the states or an urban slum in a developing or underdeveloped country. Specifically, I love studying nutrition and diving into how food and lifestyle affect our mental and physical health. I want to teach people the simple choices they can make as preventative measures against a lifetime of medical problems.
I love the idea of working hands-on with patients, talking with them and hearing directly from them about what they need and what will make a difference in their lives. I have the opportunity to witness that happening here, and for the remainder of my life I will strive to never stop listening to the people I'm aiming to serve.