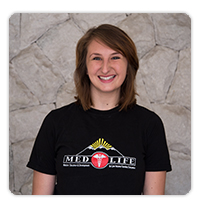 Name: Aly Lange
Hometown: Platte City, MO (near Kansas City)
School: University of Kansas
Major: Visual Art and Psychology
How I got involved with MEDLIFE: I did a mobile clinic to Lima with the UNL MEDLIFE chapter.
Tell us a little bit about yourself: I can't smell very well, I'm a hardcore caffeine addict and if I could, I'd go everywhere barefoot. I can also quote every line of Bridesmaids.
Why did you decide to become an intern?: I wanted to dive deeper into issues of poverty and global health. After working to start MEDLIFE KU this past year, I saw that I was only beginning to scratch the surface of the health disparity throughout the world and recognized that I wanted to incorporate it into my career. Plus, I LOVE MEDLIFE! MEDLIFE addresses issues of poverty in a sustainable, community-based way, which is absolutely crucial. I want to help this organization, as well as KU's chapter, grow and help others.
What was your first impression of Lima?: I was initially taken aback by how MASSIVE Lima is! There is so much to observe and learn- which is both overwhelming and exciting!
What are your goals for this internship?: I want to be able to go home and help my chapter improve, as well as soak up as much information as I can about poverty, Peruvian culture, non-for-profit work, the Spanish language, and MEDLIFE!
---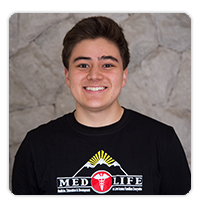 Name:
Andrew Lindeborg
Hometown: Laguna Niguel, California
School: George Washington University
Major: Undecided
How I got involved with MEDLIFE: Both of my brothers were involved with this organization while in college. Although I was still in high school, they had immediately hooked my attention. Combining the hands on medical experience with the breathtaking country and culture, I knew that I wanted to do this sometime in the near future.
Tell us a little bit about yourself: I am about to go into my sophomore at GW and am currently undecided on what path I want to specifically pursue. However, I am leaning more towards medicine and the sciences. I love snowboarding, jogging and traveling to new places to experience the landscape, food, culture and traditions.
Why did you decide to become an intern?: Ever since I went on my first trip to Lima, Peru my junior year of high school, I have wanted to work towards providing universal health care everywhere. MEDLIFE has allowed me to develop as a person and given me the knowledge and support to improve my work experience. I also wanted to learn more about this incredible organization and the work done behind the scenes.
What was your first impression of Lima?: When I first arrived in Lima I thought to myself, "This isn't too bad. The city looks developed with maybe some rundown parts." I also thought that the city was very muggy and hectic all of thetime. However after experiencing the city, I realized the true beauty and character of the land and the people. Even though there were more communities living in poverty than I thought, the locals were some of the most genuine and kind people that you will ever find.
What are your goals for this internship?: I hope to discover more about what MEDLIFE pursues and the communities they aid. I am also excited to interact with the community and develop my communication skills for future endeavors. I would feel fulfilled if I brought back the knowledge gained during this internship to improve my chapter at George Washington University.
---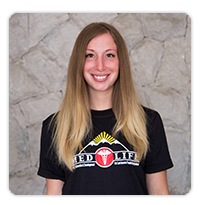 Name:
Leila El Adlouni
Hometown: Montreal, Quebec
School: McGill University
Major: Sociology & Educational Psychology
How I got involved with MEDLIFE: I got involved with MEDLIFE through my chapter on campus – I heard about an upcoming trip to Ecuador and couldn't resist! After my Mobile Clinic trip, I immediately joined the chapter and have been hooked ever since.
Tell us a little bit about yourself: I am an avid traveller and opportunity seeker. I love to find new adventures for me to take on and new places to see. My favorite part of these adventures usually involves eating local foods and being as close proximity to the beach as possible!
Why did you decide to become an intern?: I decided to become an intern at MEDLIFE because of the experience I had on my Mobile Clinic. It was such an eye opening opportunity that enabled me to see a direct link between my academic career and my personal passions. I also loved theorganization itself and the goals they have – they are very much so in congruent with my own. The cherry on top of this internship was the fact that I got to work in South America and have a grasp on abundance travel opportunities.
What was your first impression of Lima?: I immediately fell in love with Lima. Once you get passed the initial chaos and hustle and bustle of the city, you quickly notice the beauty of the place! I appreciate the outstanding energy and life the city inhibits and its incredible culture. I'm eager to explore more of its hidden gems and to also have the opportunity to visit theunder developed areas – where things may not be so pretty but still hold so much of that energy and life.
What are your goals for this internship?: My goals for this internship begin first and far most with becoming more involved in non-profit work in South America. I hope to learn through this internship the skills and experiences that can enable me to continue within the non-profit domain and work towards sustainable changes against structural and systematic inequalities and social problems.
---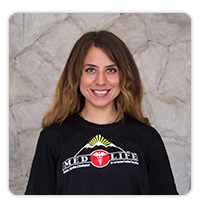 Name: Daniela Elizabeth Carbajal
Hometown: Miami, Fl
School: Florida State University
Major: Master in Public Health Candidate
How I got involved with MEDLIFE: There is a MEDLIFE chapter in my university and I went to a few meetings but never got involved until now. I believe MEDLIFE is the perfect fit for my personal goal of increasing the welfare of communities living in poverty that lack medical access and vital resources such as water. So far, I love all the work that MEDLIFE does and I am eager to keep on working hard to help others for the rest of my days in Peru
Tell us a little bit about yourself: My first language is Spanish but I speak fluent English and enjoy learning new languages, like French. I was raised in Honduras and that inspired me to work in Public Health, as I noticed the inequality of healthcare access that causes much suffering, which many people in Latin America have to endure. I love reading and writing poetry, is the best way to express my innermost thoughts and feelings. Dancing and yoga are my favorite forms of exercise that help me stay fit and bring much joy to my spirit.
Why did you decide to become an intern?: I needed an internship for credit in my Master program and I wanted to work in something that was hands-on and that will bring health relief for people that need it the most in Latin America.
What was your first impression of Lima?: As soon as I got out of the airplane and into the crowded streets of Lima, I thought "this is such a big and beautiful city," and I was ecstatic to be here… because I love Hispanic food.
What are your goals for this internship?: Overall my goal with this internship is making a difference in the life of the patients. Even if I am only contributing in a small way, I know that the work that MEDLIFE does impacts the life of many individuals profoundly by bringing medical care, education and development to the most downtrodden, disabled, sick and poor people.
---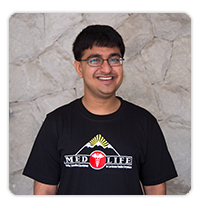 Name:
Zoheb Sulaiman
Hometown: Lilburn, GA
School: University of Georgia
Major: Biology and Anthropology
How I got involved with MEDLIFE: I was first exposed to MEDLIFE at the Fall Activities Fair during my freshman year in Fall 2011. The UGA Chapter had been founded in Fall 2010 and began expanding rapidly. I was drawn to its mission and dedicated myself to becoming involved as possible. I soon applied for an executive board position and went on my first mobile clinic to Lima, Peru thefollowing winter. Through MEDLIFE at UGA, I became the Internal Affairs Chair, served as the Co-President for the past two years, and led two more clinics to Esmeraldas, Ecuador, and Cusco, Peru. I also served on the Student Advisory Board this past year and assisted in MEDLIFE's expansion efforts.
Tell us a little bit about yourself: I was born in Calcutta, India, and moved to Georgia when I was three years old. I recently graduated from UGA two weeks ago and plan to attend the Philadelphia College of Osteopathic Medicine – Georgia Campus in August 2015. I enjoy eating Indian and Thai food, hanging out with friends and family, and watching my millions of TV shows (Teen Wolf, Supernatural, Arrow, Suits, and Game of Thrones are among my favorites).
Why did you decide to become an intern?: When I returned home from Lima, I could never forget the people I had met and those whose work our efforts supported. I wanted to come back to Lima and continue supporting MEDLIFE's mission. This summer internship was a perfect opportunity for me to get more exposure to global health and development before starting medical school in thefall.
What was your first impression of Lima?: Extraordinary and breathtaking. When I came to Lima three years go, it was my first time traveling by myself out of the country. I did not speak Spanish fluently or really enjoy the cuisine either. However, everything changed for me after that week. I ended up falling in love with the culture and people. My favorite memory is accompanying Alberto and a field nurse on a follow-up patient visit in Pamplona. Being able to see MEDLIFE's focus on sustainability was eye-opening and amazing.
What are your goals for this internship?: During this experience, I hope to continue to improve my understanding of cultural competency, patient interaction, and collaboration. I have valued my time so far with MEDLIFE because of its service-minded environment. The clinics are completely run by volunteers, student interns, and local medical professionals aside from a few official employees and a national executive board. I believe that patient-centered care always puts the patients before the physicians and creates a collaborative effort among all individuals that are involved. MEDLIFE has laid a solid foundation for this principle in my life, and I believe that this internship and my future medical school experience will further strengthen my commitment to patient-centered care. By further understanding the relationship between culture and medicine, I aspire to become a competent, empathetic, and effective physician in the future.
---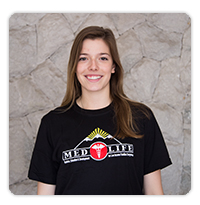 Name: Maggie Reilly
Hometown: Toledo, Ohio
School: The Ohio State University
Major: Biology, with a minor in Public Health
How I got involved with MEDLIFE: At the end of my freshman year of college, my friend told me about this club she'd found and that it seemed really cool. I attended the last MEDLIFE meeting of that year and knew it was something I wanted to be involved in. The next year I went on my first mobile clinic to Lima, and have since been the co-president of my chapter and travelled to Moshi, Tanzania.
Tell us a little bit about yourself: I just graduated college, which has definitely created some mixed emotions for me. I am passionate about medicine and public health, and hope to pursue a combined MD and Masters of Public Health. Reading is one of my favorite activities, but I also love to travel and eat – two things that I'm so excited to do in Peru!
Why did you decide to become an intern?: I've always known that I wanted to work with marginalized populations in some sort of medical context. After graduation, I wanted to live abroad at some point and contribute more of my time and effort to MEDLIFE, so this internship fit perfectly with that. I am so excited to be here to help provide medicine, education, and development to communities in a sustainable way!
What was your first impression of Lima?: Lima is definitely a very busy city – I noticed that right away. There are so many new sights, sounds, and smells that it's a bit overwhelming to take in at first. That's not to say it's not charming, I love all the colors and culture and I can't wait to explore more!
What are your goals for this internship?: I would love to broaden my world view and learn how an international non-profit organization operates. I also want to better understand the root causes of health disparities. I'm excited to bring new ideas to the office and take new ideas back to my chapter to promote MEDLIFE's mission.