Amrita joined us her freshman year of college as a participant in the MEDLIFE Be The One Campaign. She started her school's MEDLIFE chapter, joined the Student Advisory Board, and just recently completed a two-month internship in Riobamba, Ecuador. Read more about Amrita's experience as a student leader: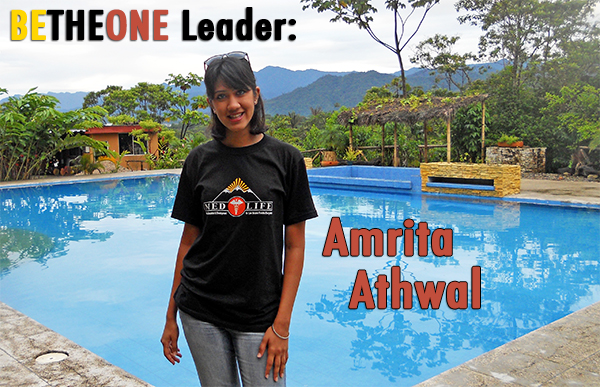 Why are you a MEDLIFE leader?
Because I love MEDLIFE and everything it stands for. I am proud to say I am part of such an amazing organization. Also, by holding a leadership position I am able to indirectly aid more patients than I would be able to with my own two hands. Instead, I direct the hands of others to join me in the MEDLIFE mission to make a long-lasting impact.
How did you find out about MEDLIFE?
The pre-med advisor at my school sent out an email to all the pre-health students at the University of California San Diego (UCSD) looking for someone to start a MEDLIFE chapter. As an eager freshman I was determined to finally do something to make a difference, so I applied to found the UCSD MEDLIFE chapter and was graciously granted the position.
What strategies and/or messages did you use to recruit Mobile Clinic participants and succeed with the Be The One campaign?
I contacted presidents of other pre-health organizations to spread the word about MEDLIFE. This proved to be a successful way to quickly spread the word to a broad array of people.
Describe your favorite moment from your Mobile Clinic experience.
My most memorable experience from my first Mobile Clinic in Lima was when — after the entire week of working hard on the staircase construction project and in the clinic under the beating sun — we were given the option of purchasing trees to ornate the stairs. Of course, all of the students purchased trees and we actually got to dig holes and plant them ourselves. Stepping back and looking at how beautiful our simple staircase looked was definitely the most memorable moment of my entire clinic experience. I felt like I had actually made a sustainable difference for the people of Pamplona.

Did you receive support with the Be The One campaign? Who helped you?
I had a lot of support from Adele, the pre-health advisor at UCSD. I also received guidance from MEDLIFE staff member Tommy Flint, who was the Director of Student Operations at that time.
What have you learned about leadership through your work with MEDLIFE?
I've learned that people genuinely want to help and make a difference in the world. As cynical as the world we live in may seem, there are always people out there who want to make it a better place. When given the adequate resources, people really do want to help one another.
What has been the most helpful resource for you as a student leader?
I would say all of the various tools we now have to communicate. I couldn't imagine how MEDLIFE, as an international organization, would function without the tools of email, conference calls, facebook, and all other types of media. Even being head of the Student Advisory Board (SAB), I need to oversee students who oversee schools all over the West Coast of the U.S.– a job that would be impossible without a reliable source of communication.
What advice would you give to students who would like to do the BTO campaign or be a MEDLIFE leader?
Love what you are doing and it will not be a moment of work. If you love helping people and you love global aid then MEDLIFE is the perfect organization for you.