Welcome to the 2021 MEDLIFE Award celebrations! As another academic year comes to an end, we're taking a moment to reflect on this past year and recognize the outstanding achievements of Chapters and individual MEDLIFErs from around the world. This has been a unique and challenging year for all due to the global reach of the COVID-19 pandemic. Nevertheless, MEDLIFErs everywhere have shown incredible resilience and dedication in the face of adversity. With your help, we continued to support our partner communities at a time when they needed it the most. As part of our COVID-19 response, together we brought 1 million meals to families facing food insecurity. 
Without further ado, we present to you the 2021 MEDLIFE Award Recipients: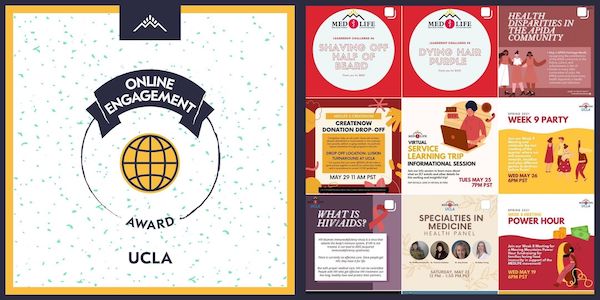 Over the last year, it has been more important than ever to stay connected online through social media and virtual events. The MEDLIFE at UCLA team has done an amazing job this year with creative educational posts, online events, leadership challenges, and more! Congratulations and thank you for all that you do to support MEDLIFE.

We want to give an honorable mention for the Best Local Service Award to the University of Florida! From taking care of retired horses to packing meal kits for underprivileged students, MEDLIFE at UF has facilitated a variety of creative and meaningful volunteering opportunities this year.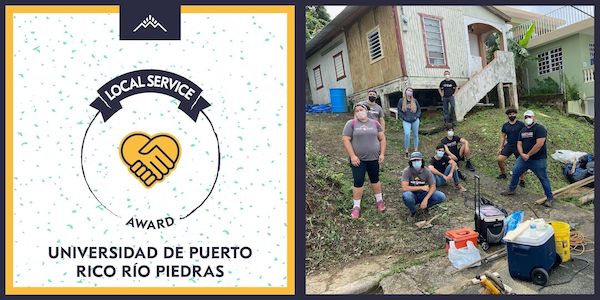 UPR-RP has done an amazing job hosting a variety of volunteering programs, from providing assistance at vaccination centers to handing out meals to people without shelter. A very special highlight of the year was the home renovation project your Chapter completed for an elderly community member!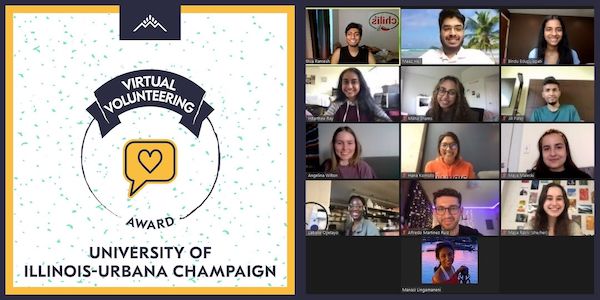 Well done to UIUC on bringing over 30 participants to our Virtual Service Learning Trip this year – more than any other Chapter! This means that you get to take home the Virtual Volunteering Award. By joining the program, you helped us serve more than 5,000 meals to families facing food insecurity.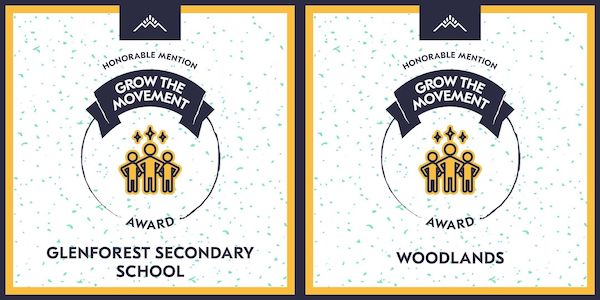 Grow the Movement – Honorable Mention: Glenforest Secondary School and Woodlands
Congratulations to Glenforest Secondary School and Woodlands for receiving honorable mentions for the Grow the Movement Award! Thank you for spreading the word about MEDLIFE and helping us reach more students with a passion for making a difference. By creating new MEDLIFE Chapters, we increase our impact in communities around the world.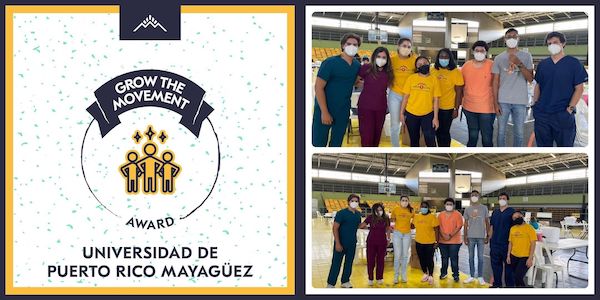 With 13 referrals provided and 5 new Chapters created, UPRM's help in spreading the word about MEDLIFE is allowing us to reach more low-income families affected by COVID-19. Every new Chapter created means more like-minded changemakers ready to help us make a difference. It means more MEDLIFErs participating in Moving Mountains and Service Learning Trips, and more lives impacted overall.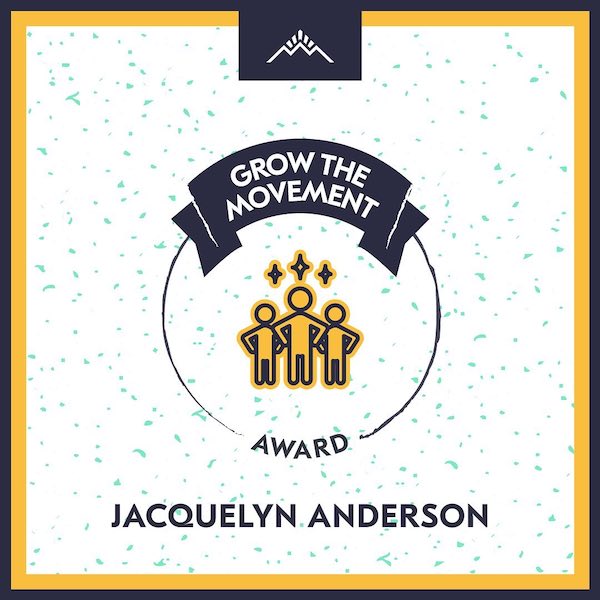 Individual Award for Grow the Movement: Jacquelyn Anderson
Our individual MEDLIFEr award for Grow the Movement goes to… Jacquelyn Anderson from Toms River High School North! Thank you, Jacquelyn, for helping us increase our impact by spreading the word to 6 students at schools that don't yet have MEDLIFE Chapters. This fantastic effort means more MEDLIFErs on board to help us bring medicine, education, and development to those who need it most.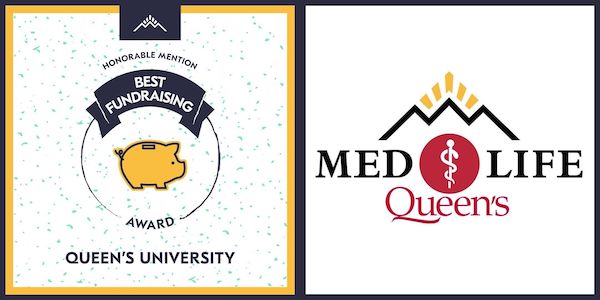 Best Fundraising – Honorable Mention: Queen's University
Queen's has come in at a close second place in our Moving Mountains campaign with a total of $21,416 raised for families facing food insecurity. They led the way for our COVID-19 fundraising efforts this year by hosting hugely successful Power Hours and participating in creative fundraising challenges.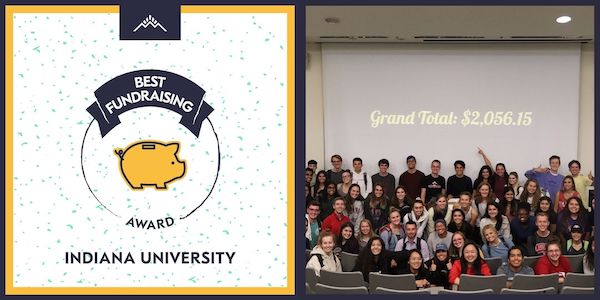 Indiana University has raised the highest amount of any Chapter for our Moving Mountains campaign with a hugely impressive total of $21,736! The team at Indiana pioneered our COVID-19 fundraising efforts as the creators of the Power Hour model that we have now rolled out across MEDLIFE Chapters globally. This innovative approach to fundraising played a key role in allowing us to reach our goal of serving 1 million meals!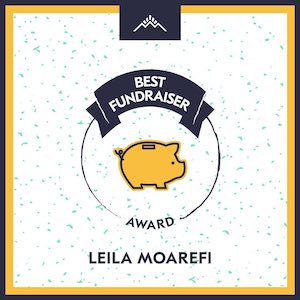 Best Individual Fundraiser: Leila Moarefi
Congratulations to Leila Moarefi from the University of California Santa Cruz on being awarded our Best Individual Fundraiser for our Moving Mountains campaign! Leila is our top fundraiser for this year with a grand total of $4,640 raised for families facing food insecurity. That means more than 3,000 meals served through our Community Soup Kitchens! 

Over the past year, Abbey Park has become the highest fundraising high school Chapter and the 13th highest fundraising Chapter globally (including universities!). By raising over $9,000 USD they've brought more than 6,000 meals to families facing food insecurity. In addition, their participation in MED Anywhere allowed a further 842 meals to be served!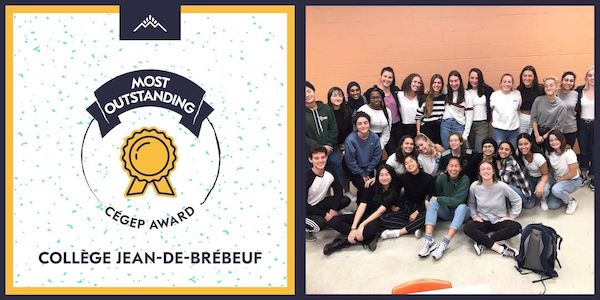 Alongside raising over $6,000 for Moving Mountains, Collège Jean-de-Brébeuf started an initiative to support local soup kitchens that provide meals for vulnerable community members. Their Chapter also had members volunteer on our Virtual Service Learning program and helped us start three new MEDLIFE Chapters!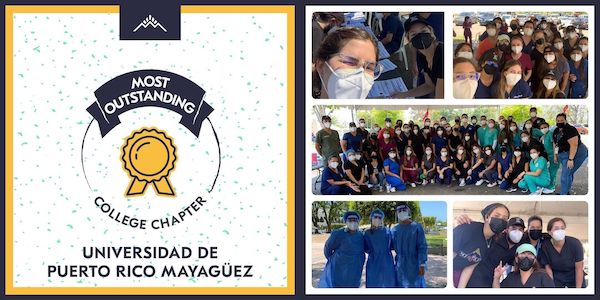 Universidad de Puerto Rico Mayagüez showed incredible enthusiasm, engagement, and achievement in all of our campaigns and initiatives this year. They raised over $11,000 for Moving Mountains, created 5 new MEDLIFE Chapters, and had 6 Chapter members volunteer virtually through MED Anywhere! On top of this, they hosted some fantastic local volunteering events and kept an active social media presence throughout the year. 

Leadership Award Recipients
All of these achievements would not have been possible without the efforts of our remarkable student leaders. We want to take this opportunity to recognize the amazing student leaders that are part of the MEDLIFE Movement who've demonstrated remarkable perseverance and leadership skills in guiding your chapters throughout this difficult year. 
Carlos Guzmán, President of MEDLIFE Universidad de Puerto Rico en Cayey: Carlos has shown fantastic leadership skills this year and managed a team of 13 E-Board members at a Chapter with 340 general members. Despite the challenges brought by the pandemic, this Chapter held multiple events each week and maintained an engaging online presence. Carlos has also done an incredible job mentoring other Puerto Rican Chapters! 
Emma Holleman Jones, President of MEDLIFE at the University of Georgia: Under Emma's leadership, UGA has done an amazing job this year with over $9,000 raised for Moving Mountains. Their Chapter was even named "Organization of the Year" as part of your school's Student Organization Achievement and Recognition Awards. 
Claudia Romani, President of MEDLIFE Seton Hall University: Claudia has been an exemplary leader in coordinating her Chapter's 5k week, collaborating with other student organizations, recruiting Virtual SLT participants, introducing new MEDLIFErs to the Movement, and much more! 

MEDLIFE Ambassadors
We also want to take a moment to recognize our very first group of students to achieve MEDLIFE Ambassador Status. We'd like to give a huge thank you to all of you for being such hardworking student leaders and making an impact on our partner communities by participating in MEDLIFE activities all year round. Our Official MEDLIFE Ambassadors for 2021-2022 are: 
Ana Aguilar, Baldwin School of Puerto Rico 

Arianna Ceballos, The College of New Jersey

Ashley Brunelle, Carleton University 

Camila Mercado, Academia San Agustin y Espiritu Santo

Charlize Geer, Colorado State University

Crystal DiBiase, University of Notre Dame

Kaila Markland, Carleton University 

Laurence Côté, Jean de Brebeuf

Leila Moarefi, University of California Santa Cruz
Thank you for joining us in celebrating MEDLIFE Award recipients for 2021achievements of all the incredible Chapters and individual MEDLIFErs around the world. We are so proud of all that you've accomplished during this challenging year and are grateful to have you as part of the MEDLIFE Movement!