Language Immersion

Language Immersion is a week-long MEDLIFE Field Course offering students an in-depth Spanish immersion experience. Rather than place students in a traditional classroom setting, volunteers will explore real-life situations surrounded by Native Spanish speakers to enhance their knowledge of the language.
Getting outside the classroom
A MEDLIFE Language Immersion Field Course pushes students to expand their knowledge of the Spanish Language and practice their skills in the real world. From conversational Spanish with the locals to practical skills like ordering food, this field course is the perfect opportunity to improve your Spanish abilities.
The MEDLIFE Difference:
Language Immersion Field Course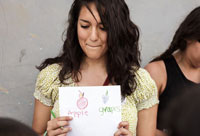 Real World Practice
Throughout your week in Latin America, you'll have numerous opportunities to practice what you've learned. From organized group activities – like visiting a market or going to a weaving workshop at a local non-profit – to your day to day interactions with community members, you will be speaking in Spanish all week long.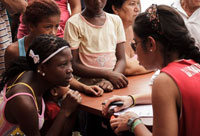 Learning from Native Speakers
Our Language Immersion Field Courses are taught by local community members who speak the language, understand local dialects and vocabulary, and provide culturally relevant courses.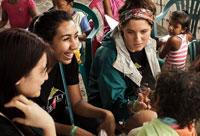 Supporting Impoverished Communities
The donation goal from your course directly supports MEDLIFE's medicine, education, and development work in the communities where we work. In addition to learning a new skill, you are supporting communities in need.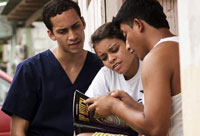 Language Learning Through Service
During the Field Course, volunteers will spend time learning about a foreign language and culture through first-hand experiences, at our Mobile Clinics. They will spend time with patients, community members, and professionals practicing their conversational skills and also discussing current local and global issues.
The MEDLIFE Language Immersion Field Course Week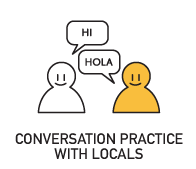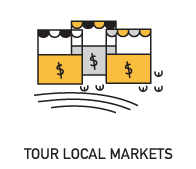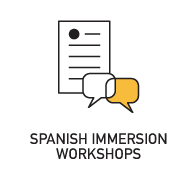 Send an email to [email protected] to request a sample itinerary
– or –
Read The FAQs
Safety

When you sign up for a Service Learning Trip you are automatically insured with Travel Insurance for up to $50,000 for the duration of your volunteer week. Create a MyMEDLIFE account to read about the benefits or email us at [email protected] to get more information.
From Classroom Learning to Field Learning!
Register today and join the thousands of volunteers who are part of the MEDLIFE Movement!